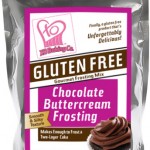 Good morning all. Today my review is about a rich, creamy, chocolate buttercream icing from XO Baking Company. This is one of the best icings that I have sampled and reviewed to date, and it got great rave from family members.
It has a creamy, almost pudding like consistency, and excellent taste. The flavor was not a overwhelming deep chocolate, but more of a milk chocolate flavor, and iced well. Although I did not find it firm enough to make flower decorations on my cupcakes it did indeed spread well and maintain its shape.
The directions are quite simple using just butter (or margarine) and hot water. The directions state using 2-3 Tablespoons of hot water but I suggest starting at just 1 Tablespoon and then adding 1/2 teaspoon increments until you reach your desired consistency, as once it becomes to creamy there is no turning back...The taste was excellent and the icing had a smooth silky texture. I would definitely purchase this icing again but would definitely add less water, as I personally prefer my icing slightly firmer.
The mix will yield about 2 cups of frosting which is enough to frost a one - 9" round layer cake or 20 cupcakes. I actually stretched mine to frost 24 cupcakes.
Ingredients:
Confectioners sugar (sugar, cornstarch), Cocoa powder, Sea salt, Organic vanilla flavor. This product is manufactured in a dedicated gluten free facility that also uses soy and milk. The nice thing about XO products is that they contain no trans fats, are wheat free, gluten free and soy free. I also like the fact that the company offers FREE shipping on orders over $45.00 or more....With the price of gas these days I am all about saving!!!
You can find this icing and their other products on their site at
XO Baking Co.
Rating: 5 Stars
Until next post....Have a great wheat free day!